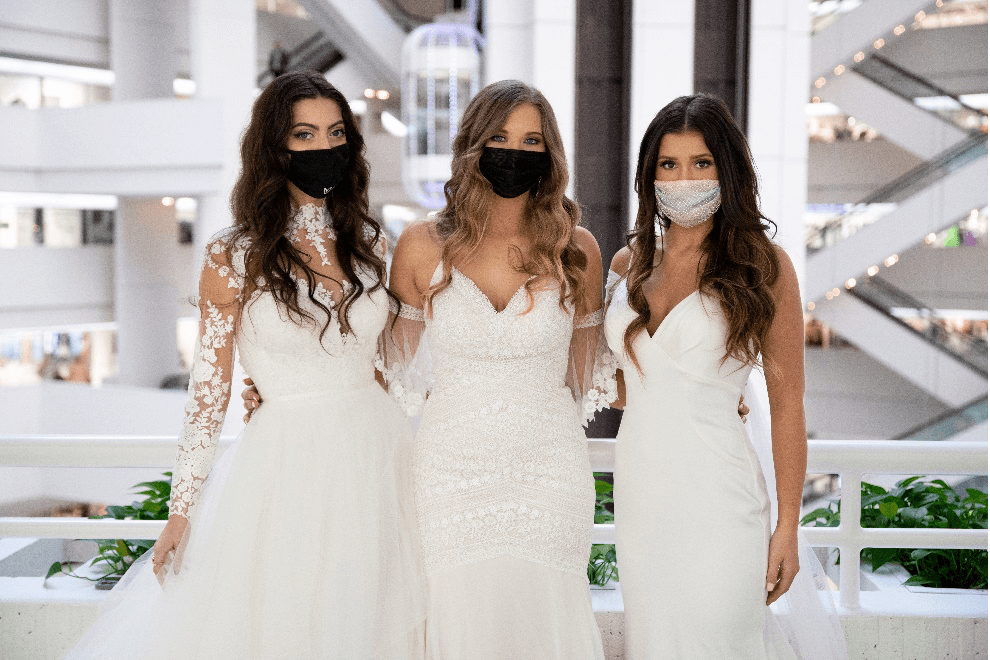 Atlanta Apparel Breaks Records at Combined April Market and VOW | New World of Bridal®
Atlanta Apparel broke multiple attendance records at its co-located April 2021 Atlanta Apparel Market (April 13-17, 2021) and VOW | New World of Bridal Market (April 13-15, 2021), signaling a continued robust recovery for the apparel and accessories industry and optimism for bridal and social occasion sellers.
"The strength of the co-located Atlanta Apparel and VOW | New World of Bridal Markets indicates that the impressive recovery of the ready-to-wear apparel sector is expanding to specialty categories," said Bob Maricich, International Market Centers CEO. "Atlanta Apparel has established itself as the market-of-choice for fashion retailers post-pandemic and we are proud that our model is spurring recovery for the social occasion industry as well."
The combined April 2021 Atlanta Apparel and VOW markets reported significant out-of-territory buyer growth with the biggest gains from the Southwest (107%), West (98%) and Midwest (66%). Overall attendance was largely regional with 87% coming from the Southeast and East Coast. In total, the markets surpassed the attendance records set at both their 2018 and 2019 presentations (the April 2020 markets were suspended due to COVID-19).
Back to Business for Bridal
VOW models observe Together Safely protocols
VOW exhibitors reported confident buyers looking for a fresh start as weddings and social events return post pandemic.
"Market was very good – our first day was amazing with 30+ appointments," noted Marco Montenegro of Morilee. "Everyone is ready to turn the page, move forward and start doing business again. Buyers are very confident, and orders are very, very good."
Brands also reported seeing significant numbers of new buyers – a combination of new to them, new to Atlanta and new to business overall.
"You know it is a great market when you can't sit down!" said Kristin Hair of Carrafina. "We saw a lot of new stores and existing accounts that are ready to get back to it. Buyers are excited to touch the gowns and to see the lines -- they are tired of looking at pictures."
"It is encouraging that we are seeing lots of new stores and stores that are being bought by younger people," added Casablanca representative Lisa Stryker. "That means that business can only get better."
Retailers buying in VOW's nearly 75 showrooms and temporaries – presenting top brands including Adrianna Papell Platinum, House of Wu, Mon Cheri and many more – were sourcing gowns in a range of styles and exploring custom and private label opportunities.
"VOW Market was wonderful!" said Leecy Fink of Celebration Bridal in Lynchburg, VA. "We were so excited to be at market again. We were so happy with selection and we bought A LOT!"
Casablanca noted that some 70% of its sales volume was custom orders. Carrafina said that the varied styles in its line allowed buyers to create "collections within the collection" that fit their unique stores and customers.
The next social occasion markets are the combined World of Prom & Social Occasion and VOW | New World of Bridal, August 2-7, 2021. Showrooms are open Monday, August 2 - Friday, August 6, 2021, 9 a.m. - 6 p.m. and Saturday, August 7, 2021, 9 a.m. - 3 p.m. Temporaries are open Tuesday, August 3 - Friday, August 6, 2021, 9 a.m. - 6 p.m. For more information, visit Atlanta-Apparel.com.
Atlanta Apparel Keeps the Momentum
Upticks in new buyers, a need for immediate resources and new virtual selling channels drove record shows for Atlanta Apparel's 2,500+ apparel and accessories brands.
"April was one of our best shows ever," said Catherine Webb of Distressed Vintage Couture, which produces one-of-a-kind distressed t-shirts. "We saw a lot of new buyers who are opening stores. They are excited and ready to get to it!"
April 2021 marked the debut of Autumn / Winter 2021 styles, but many buyers were focused on immediate product needs in addition to their pre-season buying.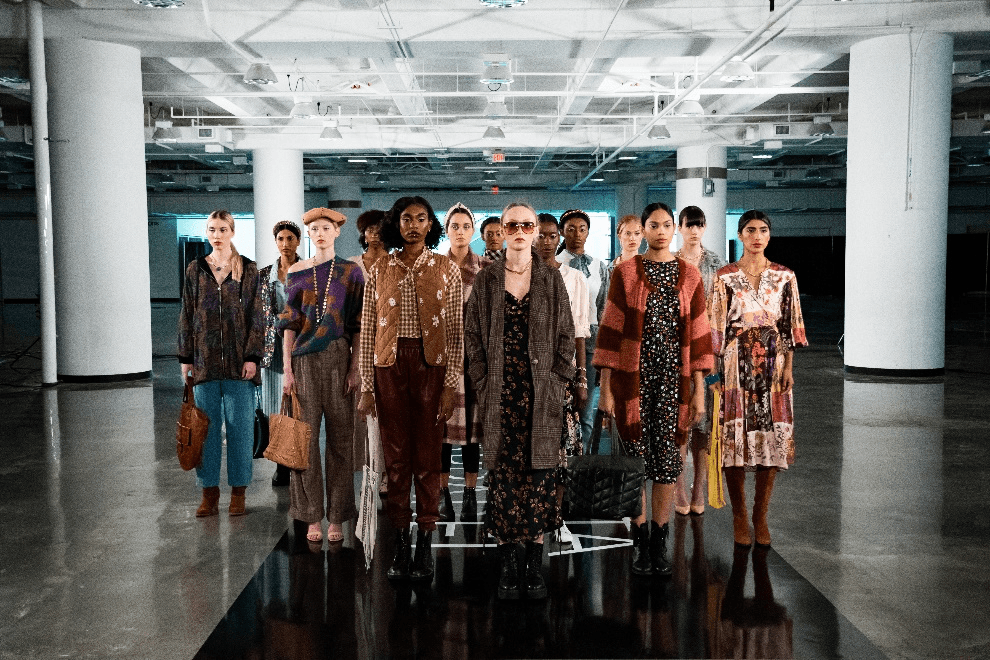 Atlanta Apparel's Autumn / Winter 2021 virtual runway show
"I had my best day ever at market," noted Caryn Lawn, who reported high interest in her eponymous accessories and apparel line from retailers in need of immediate goods. "Atlanta Apparel is a great show. This has been a great market attendance-wise."
"This was the first Atlanta Apparel Market for La Strada Showroom and the show was great," said Lisa Danielle Pastrich, president and founder of the multiline representative group and a long-time Atlanta Market exhibitor who reported "new accounts, great quality accounts and reorders" for immediate accessories. "We have had a lot of stores ask us to do this show and I'm happy that we tried it. I know that we want to do more Atlanta Apparel shows in the future."
Social selling from the trade show floor – when retailers take pre-orders for merchandise from customers via Facebook and Instagram Live – generated a great deal of buzz during market. Retailers used four social selling stations provided by Atlanta Apparel and powered by Comment Sold, as well as in-booth and showroom set-ups to showcase their market finds and get real-time commitments from their customers. As an additional opportunity for live selling, Atlanta Apparel extended the market hours on Thursday, April 15 to allow for buyers to source in some 50+ booths and showrooms which were prepped to serve buyers going live.
"I think going live is the future," said Christian Hong of Cotton Bleu by Nu Label. "Retailers get to target customers they never thought they could reach." Hong reported buyers getting commitments for "dresses for going out" and "casual cute everyday wear" as well as inquiring about Autumn / Winter 2021 styles earlier than ever before.
"We had a great market trip – we got lots done!" said retailer Susan Mattox of The French Shoppe in Nashville. "It made me so happy to see market so busy because I take it as a sign our world is getting somewhat back to normal."
Pre-registration is open now for the June Atlanta Apparel, June 9-12, 2021. In June 2021, showrooms are open Wednesday, June 9 - Friday, June 11, 9 a.m.-6 p.m. and Saturday, June
12, 9 a.m.-3 p.m. Temporaries are open Wednesday, June 9 - Friday, June 11, 9 a.m.-6 p.m. More information is at Atlanta-Apparel.com.
Fashion Events and Education Drive Digital Programming
Atlanta Apparel again adapted elements of its market experiences with virtual components.
The semi-annual VOW fashion show featuring some 48 looks for brides, bridesmaids, grooms, mothers-of-the-bride and flower girls was presented via video with a companion digital lookbook. VOW's signature bridal-focused education, presented on IGTV, included social media tips from bridal experts plus a look at wedding trends – during and post-pandemic. (NOTE: link to video is here; link to lookbook is here.)
Atlanta Apparel expanded its virtual programming with a digital presentation of its Autumn / Winter 2021 runway event of 44 looks also via video and digital lookbook. Educational programming included a webinar with digital agency Defero on the paid media landscape. New to influencer programming was Monica Awe-Etuk of @awedbymoni sharing favorite trends and brands in partnership with Jezebel Magazine. Returning programming included Lindsay Rozier of @Sell_Eat_Love presenting "Market Tips" and an all-new interview with Gigi's of Bluffton, SC in "Retailer Spotlight;" Tomeka Cherry of @CherryPickedStyle sharing "Cherry Picked Trends;" and Mireille Beckwith of @City.Peach with "Fashion Insider" market finds. Additional virtual runway events highlighted accessories and shoes, new exhibitors and women's apparel. (NOTE: link to videos is here; link to lookbooks is here.)
These series plus other Atlanta Apparel trend and educational programming is available on Atlanta Apparel's Instagram (@AtlantaApparel). The catalog of 20 trend and business videos garnered more than 15,000 views by the close of the market.
Atlanta Apparel's eight yearly markets feature the latest looks in contemporary, young contemporary, fashion accessories and more, plus specialty categories such as children's, plus-size, bridal and social occasion. Market information is available online at
Atlanta-Apparel.com
.